Grant Price gives your event a personal touch with interactive mind reading and comedy
It isn't about Grant Price, it is about your audience
Grant Price's Happy Clients GIVE YOUR AUDIENCE WONDER
LIFE IS HARD, PEOPLE NEED WONDER
Too Many Entertainers Care Nothing About Your Crowd
Finding entertainment that cares about your audience is hard
Your audience deserves a show that prioritizes their enjoyment
Too many entertainers care nothing about your audience
Finding entertainment that cares about your audience is hard
Your audience deserves a show that prioritizes their enjoyment
NO AUDIENCE LEFT WITHOUT WONDER
Grant Price has been an entertainer all his life. His biggest pet peeve is entertainment that is impersonal, offensive, or condescending. He has witnessed too many performers with an air of "I'm smart, I'm cool, just shut up and watch me." This isn't the demeanor of quality entertainment.
Grant gives your audience a show they will love by making them part of the show. He provides magic performances of the highest caliber without all the pandering. When Grant hits the stage, the whole show is about your audience making you look good and setting you up as the expert event planner.
Grant's Show Is All About Your Audience
You crushed it. You were honest, humble, and entertaining… Everyone just loved it and had a blast!
People were blown away… a truly unique experience that we all shared in and will remember for years. It was the perfect way to start our week!
HOW TO HAVE AN ABOUT-YOUR-AUDIENCE EVENT
Tell Grant Your Needs
The What, Where, & When
Schedule The Show
Get a call from Magician Grant Price
Best Event Ever
Give your audience a show that is about them
Grant price's ABOUT-YOUR-AUDience show won't hang you out to dry with…
Mediocre or patronizing entertainment
Unhappy boss, bored guests, and an event that falls flat
Embarrassment and harm to your reputation
An About-Your-Audience Show Results In...
A Butt-Kicking Event For Your Company
A Reputation As THE Event Planning Authority
Less Stress So You Can Enjoy Your Hard Work
The Right Entertainment Piece For Your Event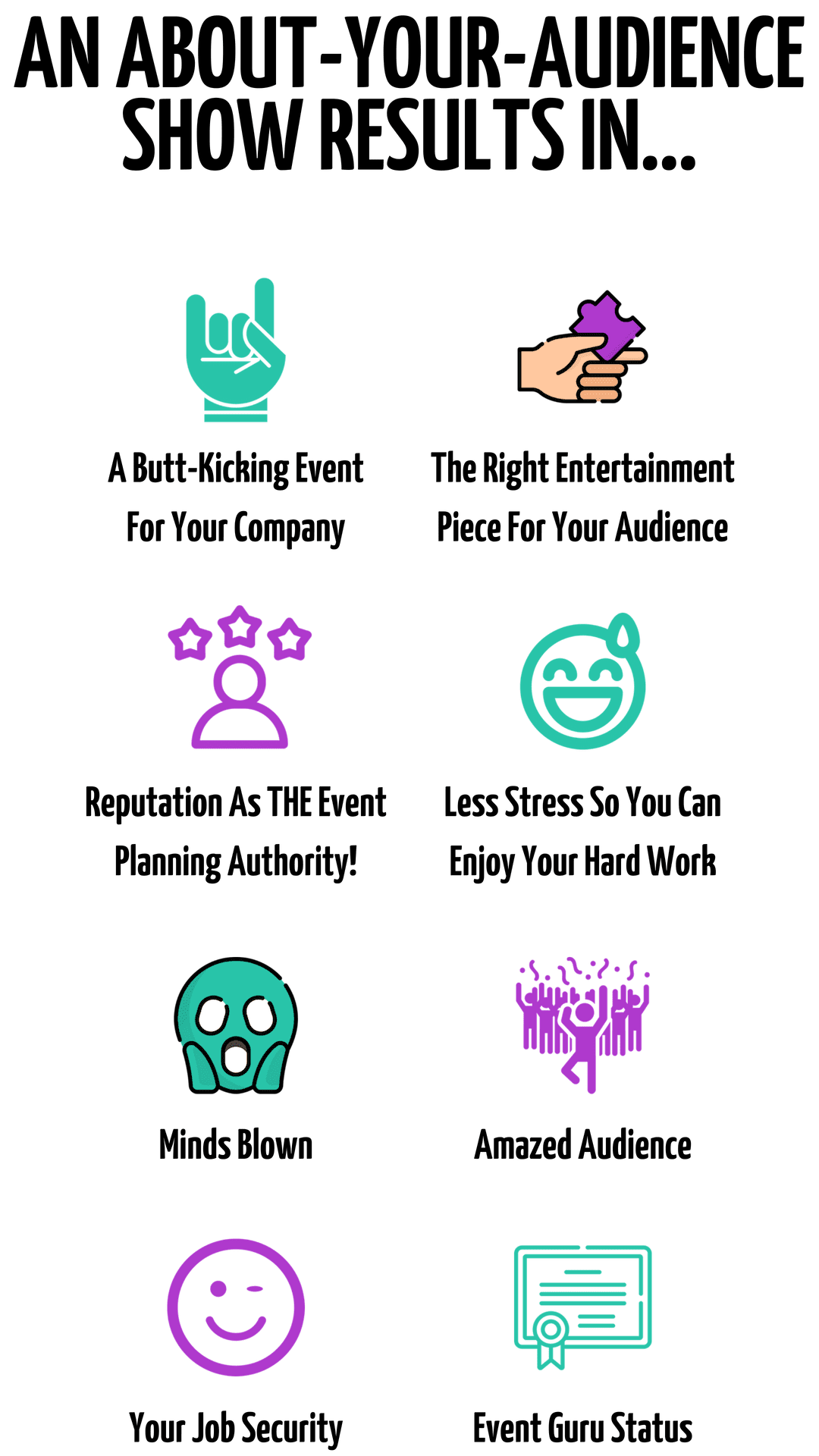 HINT OF WONDER
Magic That Happens Right in Front of You
Energize your staff with some up-close, in-your-hands magic. Nothing beats witnessing the magic in your hands
WONDER GENERATOR
Escape the ordinary, be bewildered
Give their minds a whirl with a show that unites your company and captivates your audience
WONDER DELUXE
Hint of Wonder + Wonder Generator
Unify your company & blow away your audience with a stage show AND some up-close magic
Grant Price's Signature - Interpersonal Entertainment
Comedy, Mind Reading, and Audience Participation
Grant Price began performing magic and mind reading when he was 6 years old. Since then, he has always had a gift for making people wonder and laugh. He quickly learned that that isn't all that is required of a talented entertainer. He began to look at other forms of entertainment and notice one fatal flaw: most of them present their one-size-fits-all performance with almost no regard for the audience. That shouldn't be. Grant Price decided early on that he wanted to perform in a way that makes the audience feel known and cared about. As a result, Grant's shows always bear his unique signature, something he calls responsive entertainment. See a sample of his show here.
Grant Price, Circa 1998
Where the magic of Grant Price began
From a very young age, Grant Price has been fascinated with magic and its ability to instill awe in people of all ages. Even when Grant was seven-years-old people would laugh, sit in stunned silence, or even scream in response to his performances. Today, that is the fuel of Grant's performances – reminding people to seek and explore wonder in every part of life. Grant Price presents a show that amazes, yes, but more importantly, that gives delight and wonder to your audience. Grant gives you a show that people will not stop thanking you for. Crush your next event and make it unforgettable. Host an event that kicks butt, not one that falls flat.