THE SHOW YOUR AUDIENCE WILL LOVE (AND LOVE YOU FOR)
Magician Grant Price wants you to host a butt-kicking event Grant Price's Happy Clients Right now, your upcoming event is incomplete
Finding the right entertainment is stressful
Your audience deserves high quality entertainment
Right now, your upcoming event is incomplete
Finding the right entertainment is stressful
Your audience deserves high quality entertainment
Like you, Magician Grant Price measures event success by the smiles of your guests
You crushed it. You were honest, humble, and entertaining... Everyone just loved it and had a blast!
People were blown away... a truly unique experience that we all shared in and will remember for years. It was the perfect way to start our week!
HOW TO HAVE A BUTT-KICKING EVENT
Check Availability
Tell us the What, Where, & When
Schedule The Show
Get a call from Magician Grant Price
Best Event Ever
Make your audience happy
Magician Grant Price WANTS TO HELP YOU Avoid
Impersonal or offensive entertainment
Unhappy boss, bored guests, and an event that falls flat
Embarrassment and harm to your reputation
A Well-Rounded, Successful Event
A Reputation As THE Event Planning Pro!
No More Stress Knowing Entertainment Is Covered
The Right Entertainment Piece For Your Audience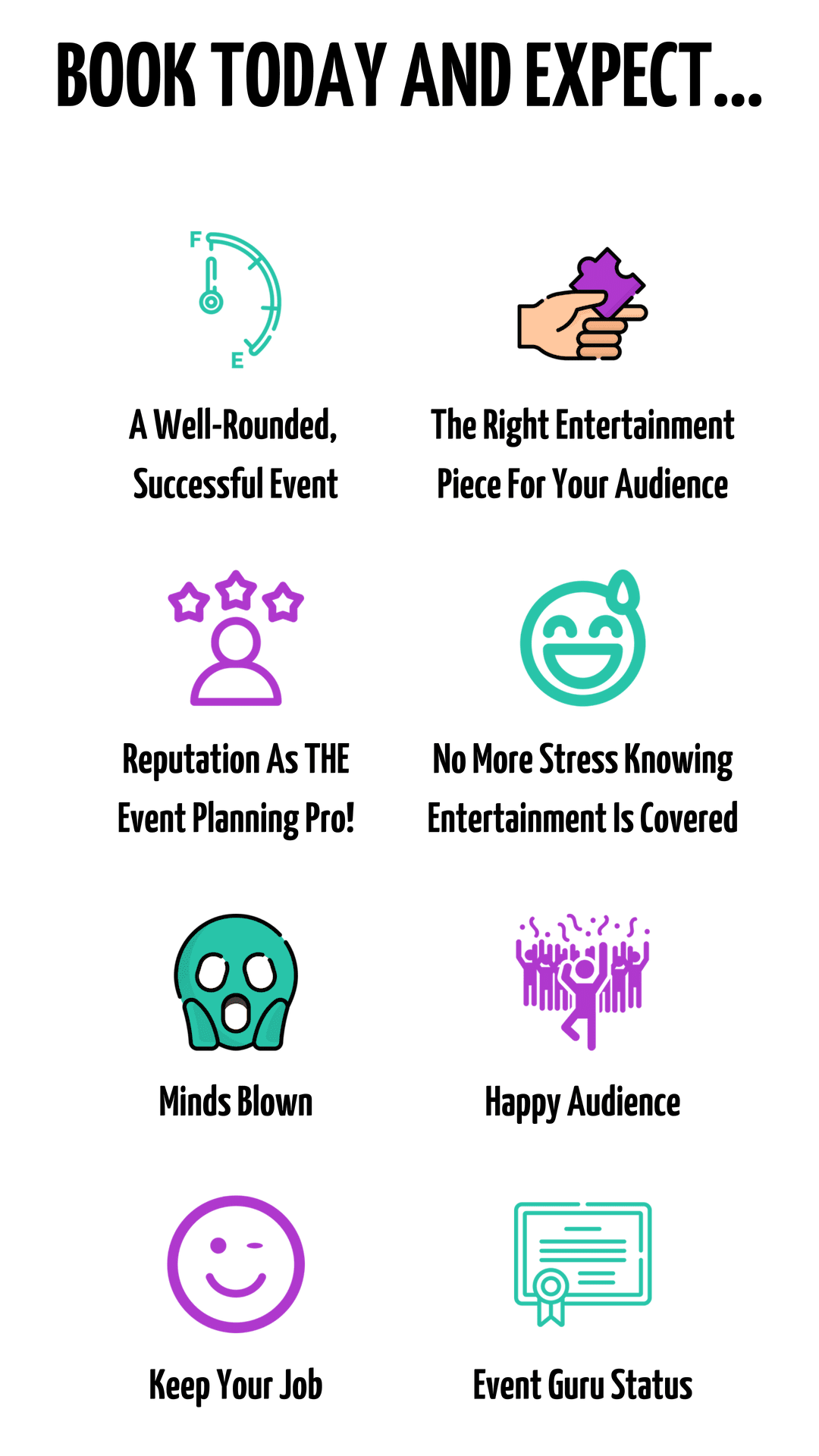 SHOW VALUE TO YOUR TEAM
Magician and Mentalist Grant Price provides a show that communicates appreciation to your employees. Two-thirds of workers do not feel appreciated. 80% of employees say that they would stay longer in their respective jobs if they felt more valued within it. Focusing on your employees is focusing on the bottom line. Study after study shows that a valued employee is a productive employee. Providing an entertainment experience that grows your company closer together will increase revenues and improve your office culture. While being entertained, your staff will get to know one another better – fostering a culture of tight-knit relationships across departments that boosts office morale. Click below to hire Grant Price today!
MAGICIAN GRANT PRICE HELPS YOU CRUSH YOUR EVENT
Performing throughout the United States since 2003, Grant Price mesmerizes your audience. His unique style of impossible mind reading and magic will leave you scrambling to pick up your jaw off the floor. He will read your mind, influence your behavior, and predict the outcome of even the smallest decisions. Don't worry, though he knows your social, bank account, and phone number, he can keep a secret. Grant knows what you're thinking, where you've been, your father's name, your hobbies — Everything.
You think it, he knows it.